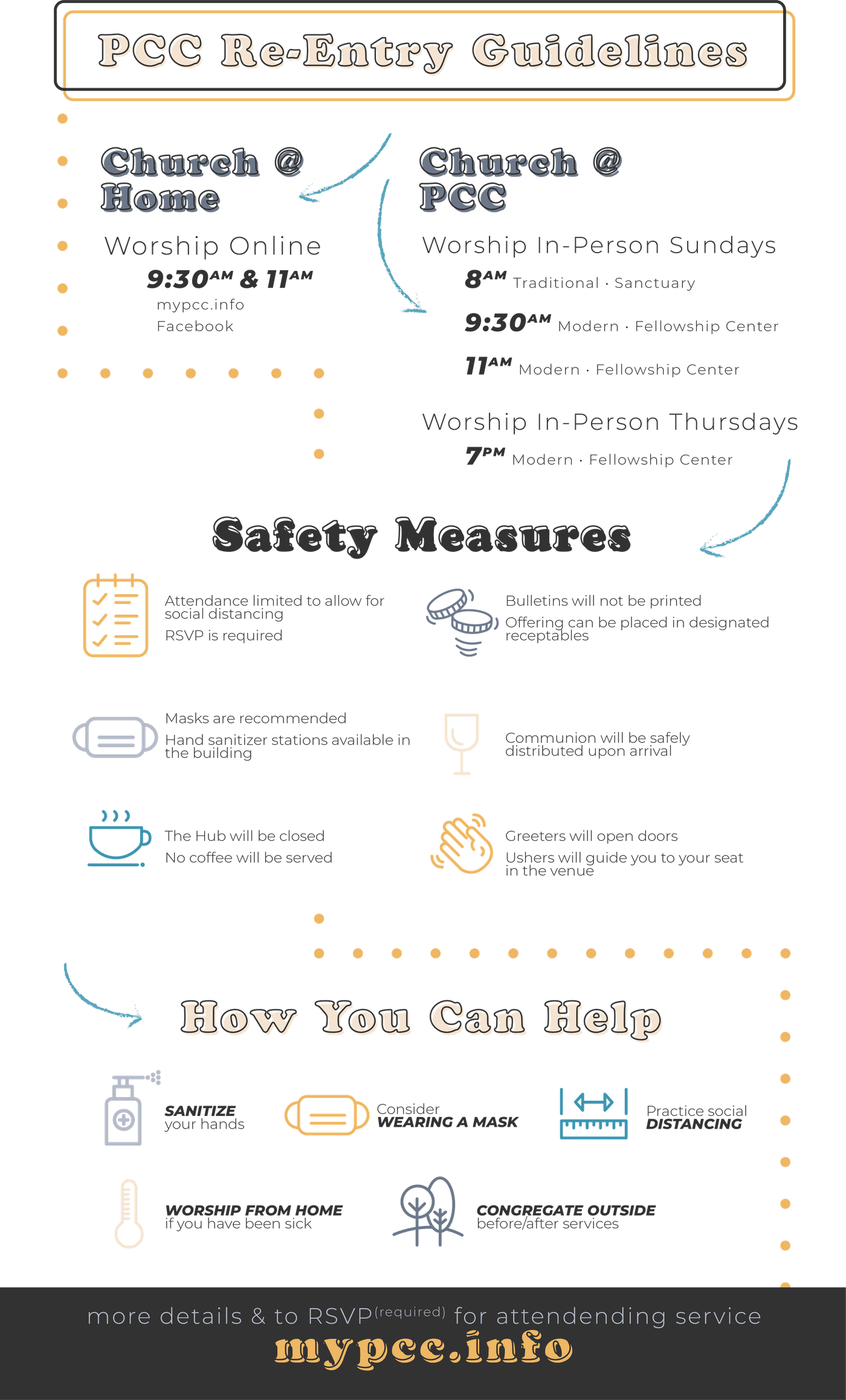 RSVP Your Family for Sunday's Service
FAQs
When does the Thursday evening service begin?
The Thursday evening modern worship service will begin on September 17 at 7 pm in the Fellowship Center.
Why do I have to RSVP to come to an in-person service?
Having an RSVP system ensures that we will not exceed capacity for any of our services. Attendees will be ushered to seats to allow for social distancing inside of the worship venues.
Do I have to RSVP every week for in-person services?
Yes. This helps us to track who attended each service each week, as well as plan for room capacity limitations. The online RSVP form will be available Sunday at 6 pm for the following Sunday's services every week.
Do I have to RSVP if I am volunteering?
If you and/or your family will be worshiping in the venue, then yes, you will need to RSVP each person attending. If you are volunteering but are not worshipping in a venue, you do not need to RSVP.
Will you still be offering online services, even though we're back in the building?
Yes. Online services will still be offered online at 9:30 am and 11 am.
Is there a 9:30 am traditional worship service?
No. The traditional worship service will happen at 8 am in the Sanctuary. Modern worship services will happen at 9:30 and 11 am in the Fellowship Center.
What happens if I forget my mask?
We will have new masks available for anyone who does not have one. Masks are required.
What will I do after the service?
Attendees will be dismissed by rows or sections to allow for social distancing while exiting the building. We ask that you please congregate outside before and after the service.
I have a group that meets on Sunday morning. Are we allowed to meet?
Sunday morning gatherings are limited to worship services only right now. We are working on a plan for Sunday morning group gatherings, but these groups are suspended until further notice.
Will we be passing plates for offering and communion?
No. You will receive pre-packaged communion elements upon arrival at the worship venue. You will be able to give your offering as you exit the worship venue in the designated offering receptacles.
Where do I take my kids?
Children's programming is projected to resume on August 23. Until then, we will be having family worship during the services.